Improving the understanding of the scene by recognizing some Human Activities by the Assistive Robots

Subsidiary project: 1268/22.01.2018
Deployment period: 22.01.2018 – 31.12.2020
The scope of the project is to monitor daily activities and to recognize possible critical and dangerous situations (falls of the elderly).
Development of algorithms for recognizing human positions.
Development of algorithms for recognizing objects in the environment.
Development of a method for the recognition of daily activities based on the merging of data related to human posture and surrounding objects.
Integration of components developed on a commercial robot.

Commercial use of the robotic platform by

CITST.
Recognition of human activities by analysis of the human skeleton:

Purchasing a new data set using the Pepper robot,
Posture estimation using the OpenPose architecture,
Classification of activities using a convolutional neural network,
Network training on the NTU RGB+D data set, fine tuning on the drive set from the data set collected by Pepper and testing on the new data set.

Recognition of human activities using the fusion of time, channel and context:

The training was performed using Google Auto ML,
Creation of a new dataset:PRECIS HAR.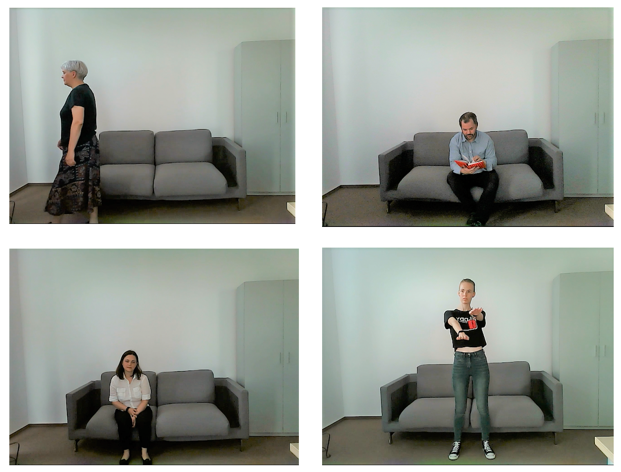 I. Mocanu, D. Axinte, O. Cramariuc, B. Cramariuc, Human Activity Recognition with Convolution Neural Network Using TIAGo Robot. In: Proceedings of the 41st International Conference on Telecommunications and Signal Processing (TSP), Athens, Greece, DOI: 10.1109/TSP.2018.8441486, 2018, (ISI Proceedings).
Nr. crt.
Activități
Rezultat(e)
Interval desfășurare activitate
Activități de cercetare industrială
1
Activitatea 1.1 Definirea specificațiilor funcționale și arhitecturale ale platformei robotice si ale mediului de testare.
Raport  specificații  funcționale  și arhitecturale
feb 2018-iun2018
2
Activitatea 1.2 Proiectarea algoritmilor SLAM, 3D-mapping, manipulare și algoritmilor de planificare a mișcărilor robotului, și implementare.
Algoritmi implementați funcționali Raport de proiectare  și implementare
feb 2018-iunie 2019
3
Activitatea  1.3  Proiectarea  algoritmilor  pentru  detecția  persoanelor  și  a  obiectelor,  și implementare. Studii privind interactiunea om-robot. Diseminarea rezultatelor.
Algoritmi implementați funcționali. Raport de proiectare și implementare. Raport privind studiul interactiunii om-robot.  1 lucrare  științifică
feb 2018- iunie 2019
Nr. crt.
Activități
Rezultat(e)
Interval desfășurare activitate

Activități de cercetare industrială

1
Activitatea 2.1 Implementarea platformei robotice si a mediului de testare.
Platforma       robotică        versiune inițială. Raport de proiectare și implementare
ian 2019-dec 2019– UPB

ian 2019-dec 2020 – CITST

2
Activitatea 2.2 Integrarea algoritmilor de detecție a persoanelor si obiectelor, manipulare, algoritmi de SLAM, cu datele provenite de la senzori. Testari in laborator. Diseminarea rezultatelor.
Demonstrator algoritmi funcționali cu performanțe crescute. 2 lucrări științifice
ian 2019-dec 2019
Nr. crt.
Activități
Rezultat(e)
Interval desfășurare activitate

Activități de dezvoltare experimentală

1
Activitatea 3.1 Implementarea soluției de robot social (interacțiune socială) folosind un hardware comercial
Soluție robot pentru interacțiune socială
ian 2020-dec 2020
2
Activitatea 3.2 – Validarea cu teste reale a acceptanței soluțiilor propuse. Diseminarea rezultatelor si exploatarea rezultatelor
Raport de experimentare și validare. 2 lucrări științifice.

1 Cerere de brevet

ian 2020-dec 2020