Subsidiary project: 1226/22.01.2018
Deployment period: 22.01.2018 – 31.12.2020
The scope of the project is to create an integrated and easily configurable solution for customizing social and assistive robots, using artificial intelligence methods that can provide a cognitive and autonomous character to robots.
Development of a platform that serve the development of robotic applications for different models of humanoid robots (Pepper and TIAGo).
Development of high-performance SLAM algorithms, manipulation that allows autonomy and long-term orientation in a dynamic environment.
Use and improvement of computational visual algorithms for detecting people.
Human-robot voice interaction in English (91.20%) and Romanian (91.80%).

Human-robot interaction: recognizing the activities performed by a person.

Detection and tracking of people

.

Manipulation algorithms for the TIAGo robot

.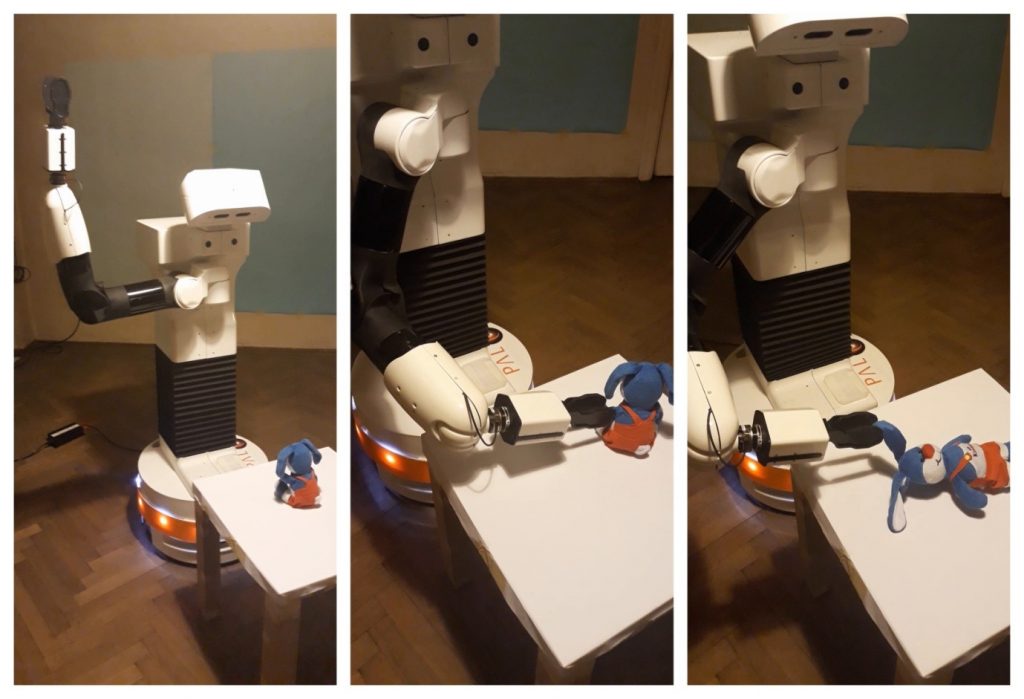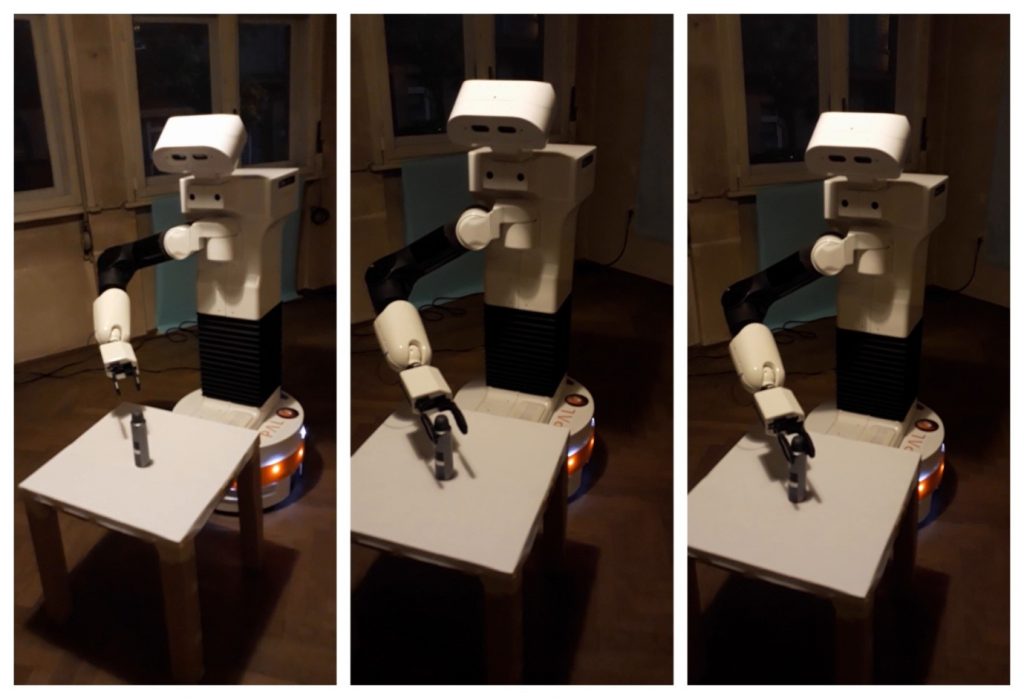 Evaluation of human-robot interaction using opinion polls and group discussions: 58% of respondents believe that a robotic platform could help them.

I. Mocanu, I.A. Awada, A. Sandu, L. Popa – An Intelligent System for Assisting Elderly People. In: UPB Scientific Bulletin, Series C, (ISI Journal, under evaluation).
N. Samar Brencic, M. Dragoi, I. Mocanu, T. Winiarski – Intuitive and Intelligent Solutions for Elderly Care. In: International Conference on Digital Health Technologies (ICDTH), Hammamet, Tunis, 9-11 December 2019, (Springer Proceedings).
D. I. Nastac, O. Arsene, M. Dragoi, I. D. Stanciu, I. Mocanu, An AAL scenario involving automatic data collection and robotic manipulation. In: Proceedings of the 3rd IET International Conference on Technologies for Active and Assisted Living (TechAAL), UK, 2019, (BDI Proceedings).
M. Dragoi, I. Mocanu, B. Cramariuc, O. Cramariuc, Towards facilitating learning and improving education with TIAGO robot. In: Proceedings of the 13th annual International Technology, Education and Development Conference (INTED),Valencia, Spain, 11-13 March 2019, (ISI Proceedings).
A.S. Ghita, A. Gavril, M. Trascau, A. Sorici, B. Cramariuc, A.M. Florea, M. Nan, Human Action Recognition for Social Robots. In: Proceedings of the 22nd International Conference on Control Systems and Computer Science (CSCS), Bucharest, Romania, 2019, (ISI Proceedings).
Nr. crt.
Activități
Rezultat(e)
Interval desfășurare activitate
Activități de cercetare industrială
1
Activitatea 1.1 Definirea specificațiilor funcționale și arhitecturale ale platformei robotice si ale mediului de testare.
Raport specificații funcționale și arhitecturale
feb 2018-iun2018
2
Activitatea 1.2 Proiectarea algoritmilor SLAM, 3D-mapping, manipulare și algoritmilor de planificare a mișcărilor robotului, și implementare.
Algoritmi implementați funcționali Raport de proiectare și implementare
feb 2018-iunie 2019
3
Activitatea 1.3 Proiectarea algoritmilor pentru detecția persoanelor și a obiectelor, și implementare. Studii privind interactiunea om-robot. Diseminarea rezultatelor.
Algoritmi implementați funcționali. Raport de proiectare și implementare. Raport privind studiul interactiunii om-robot. 1 lucrare științifică
feb 2018- iunie 2019
Nr. crt.
Activități
Rezultat(e)
Interval desfășurare activitate

Activități de cercetare industrială

1
Activitatea 2.1 Implementarea platformei robotice si a mediului de testare.
Platforma robotică versiune inițială. Raport de proiectare și implementare
ian 2019-dec 2019– UPB

ian 2019-dec 2020 – CITST

2
Activitatea 2.2 Integrarea algoritmilor de detecție a persoanelor si obiectelor, manipulare, algoritmi de SLAM, cu datele provenite de la senzori. Testari in laborator. Diseminarea rezultatelor.
Demonstrator algoritmi funcționali cu performanțe crescute. 2 lucrări științifice
ian 2019-dec 2019
Nr. crt.
Activități
Rezultat(e)
Interval desfășurare activitate

Activități de dezvoltare experimentală

1
Activitatea 3.1 Implementarea soluției de robot social (interacțiune socială) folosind un hardware comercial
Soluție robot pentru interacțiune socială
ian 2020-dec 2020
2
Activitatea 3.2 – Validarea cu teste reale a acceptanței soluțiilor propuse. Diseminarea rezultatelor si exploatarea rezultatelor
Raport de experimentare și validare. 2 lucrări științifice.

1 Cerere de brevet

ian 2020-dec 2020